Military Dog Video of the Week(August 23th, 2012): Service Dogs
---
---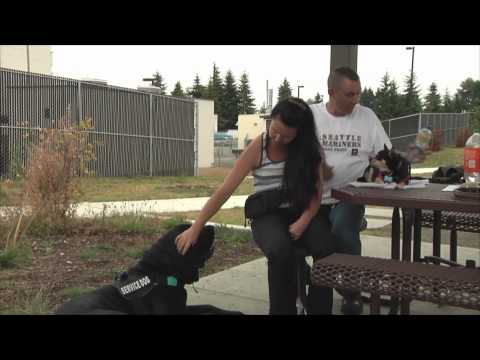 Traumatic brain injury and post-traumatic stress disorder are two medical conditions that are difficult to diagnose and treat. Army Sergeant Peter Holzer tells us about some unique dogs that are giving Soldiers with TBI and PTSD, a second chance at recovery
This video really made me think.
Is this a feasible program for the military?
Can we have troops, who require therapy dogs in order to function, continue to serve?
As a dog enthusiast and having my very own (unofficial) therapy dog, my heart tells me– of course. But as a professional officer in the United States Army I have my doubts.
Allowing troops to have therapy dogs at work is a complex issue with many, many layers of complications attached.
I think my position right now is: If you need a service dog then can you really perform your duties as a Soldier, Marine, Airmen or Sailor? My postion is specifically asked as a question because I just don't know.
I would love to hear others thoughts. I wish this video told us whether the Soldiers are processing out of the Army or continuing to serve.
I think I'll leave it here today and follow up with another post about this topic.
What do you all think of troops serving who require service dogs?
What would be some of the complications I allude to?
Does anyone work with someone who requires a service dog in the civilian/ military world? How does that work?
In case you missed or want to revisit prior weeks. Here are the links:
Military Dog Picture of the Week. (August 16th, 2012): Honza Bear
Military Dog Video of the Week(August 9th, 2012): K9 Healers
Military Dolphin Picture of the Week. (August 1st, 2012): Koa the Sailor
 Click here to subscribe and receive my weekly blog posts directly to your email. You don't want to miss a thing!
---
---
6 comments on "Military Dog Video of the Week(August 23th, 2012): Service Dogs"
Leave a Reply